ALBANY, N.Y.: March 6, 2018 –  Diana Williams, award-winning reporter and anchor for ABC7NY top-rated Eyewitness News, has been named the keynote speaker for the 36th Annual "One Voice for Brain Injury" Conference.  Williams will address the audience with her story "Halfway There" describing her son's traumatic brain injury and her steep learning curve through the recovery process.
Williams' son, an F-22 fighter pilot, sustained a severe brain injury in an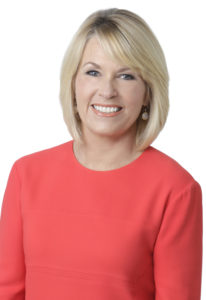 accident that almost took his life. Williams will share how his injury impacted her entire family.
Registration is now open for the event, which will be hosted at the Holiday Inn in Saratoga Springs, New York on Wednesday, June 13 and Thursday, June 14. Professionals, brain injury service providers and consumers from across the state are invited to get a first look at industry trends and information to better support and serve individuals and their families affected by brain injury across New York State.
Williams joined the Eyewitness News Team in 1991. Before that she worked at WNEV-TV in Boston, after starting her career at WBTV-TV in Charlotte, North Carolina. Throughout her journalism career, Williams has covered important stories ranging from the troubles in Northern Ireland to undocumented immigrant crossings along the Mexican border. She reported from Haiti on the one-year anniversary of the earthquake that ravaged the island nation. Noted for her calm, professional manner during a crisis, she anchored coverage on September 11th during the critical early hours following the attack on the World Trade Center.
"We are thrilled to host Diana Williams at this year's Conference," said Eileen Reardon, Executive Director for the Brain Injury Association of New York State. "Her personal story told through the eyes of a caregiver will surely resonate with many that attend our conference.  Her family's TBI journey to recovery is truly inspirational and really reminds us that this type of injury can happen anywhere, anytime to anyone."
This two-day conference, which is open to professionals, brain injury service providers and consumers will contain a variety of workshops including: professional presentations; panel discussions; and personal testimonials from brain injury survivors and their family members.  New this year, the conference will feature optional evening leisure activities for attendees.
Pricing is $300 for BIANYS members and $350 for non-members.  Scholarships opportunities are available for current members.  Deadline for submission is April 20, 2018.
Exhibitor booth and underwriter opportunities are available by contacting Erica Rossin by phone at 518-459-7911 or via email at erossin@bianys.org.
For more information on Diana Williams story, visit www.facebook.com/dianawilliams.abc7ny.