For 40 years, the Brain Injury Association of New York State has supported and advocated for New York's brain injury community. This milestone is something to celebrate and we are glad you are here with us!
Thank you to the 40th Anniversary Planning Committee: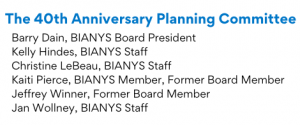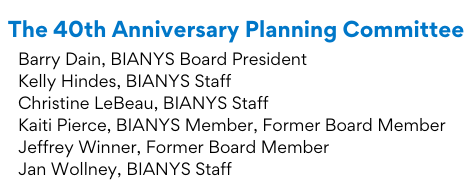 Do you have a BIANYS story or memory of your own to share or want to wish BIANYS a happy anniversary?
Were you there in the beginning or even standing by when the Concussion Management Awareness Act was signed into law? Let us know!
We invite past and present employees, members, advocates and partners to send us your stories, recollections or well wishes. We will review and share submissions on the 40th Anniversary Testimonial page. Learn how to share your story here.
Check back as we post testimonials. Also be sure to look for 40th Anniversary celebrations all year long!
Questions? Reach out to 40BIANYS@bianys.org.