PRESS RELEASE FOR IMMEDIATE RELEASE
For More Information Contact: Tish Czachor, Development Director
(518) 459-7911
tczachor@bianys.org
Brain Injury Association of NYS Announces Plans for 8th Annual "Journey of Hope" Gala
Prominent NYC Attorney Andrew W. Siegel and his spouse, Randi to serve as Honorary Chairs

Albany, New York; May 19, 2015: The Brain Injury Association of New York State (BIANYS) is pleased to announce the plans for the 8th Annual "Journey of Hope" Gala. The Gala is a wonderful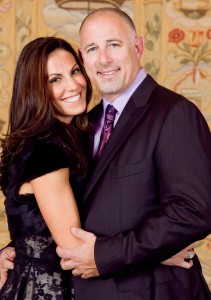 celebration of the courageous individuals and families impacted by brain injury. This year's event will be held on Thursday, October 8th, at a stunning Manhattan venue, the Midtown Loft & Terrace, located at 267 Fifth Avenue. The event will feature a "Taste of New York" with samplings of wineries and micro-breweries from throughout New York.
Acclaimed author and longtime Brain Injury Association of NYS supporter TBI attorney Andy Siegel of Siegel & Coonerty, LLP and wife Randi have graciously accepted to serve as the Honorary Chairs for the 8th Annual "Journey of Hope" Gala. "During my legal career, I've had the privilege of representing numerous TBI victims and their families. I have witnessed incredible stories of amazing people overcoming insurmountable obstacles in the wake of sudden tragedy. Being a compassionate observer of life's susceptibilities inspired my debut novel, Suzy's Case, which put a human face on a reality I know so well from working closely with TBI victims." stated Andy Siegel. "My wife and I feel deeply honored being selected as Honorary Chairs and we are extremely pleased to be involved with this important organization that provides support, resources, and genuine HOPE, to individuals and their families impacted by brain injury," concluded Siegel.
The Brain Injury Association of New York State (BIANYS) is a statewide non-profit membership organization that advocates on behalf of individuals with brain injuries and their families, and promotes prevention. Established in 1982, BIANYS provides education, advocacy and community support services that lead to the improved outcome for children and adults with brain injuries. BIANYS offers a toll free Family Help Line, chapters and support groups throughout the state, prevention and educational programs, mentoring programs, speakers bureau and a resource library. BIANYS plays a vital role in the development for public policy on the federal, state and local level.
"The positive early response to this year's gala announcement represents how seriously our constituents, partners, and donors are taking this important public health issue," said Eileen Reardon, Executive Director of the Brain Injury Association of NYS. "We are proud to be recognized for the vital and important role BIANYS plays in issues of prevention, advocacy, outreach and change. Although the Gala is a celebration of our accomplishments and a tribute to those involved in our cause, more importantly it's our single most important fund raising event," concluded Reardon.